Thirty Years of Novation by the Decade
It goes without saying that three decades is a long time. Music has changed drastically, and so has the way we make it, and at Novation, we've seen first-hand just how much things have changed.
In 1992, Ian Jannaway and Mark Thompson founded Novation Electronic Music Systems and created a never-before conceived, ingenious piece of gear, the MM10. The MM10 allowed you to control the Yamaha QY10 music workstation for a more hands-on approach to electronic music-making. We've come a long way since then, with a powerful family of iconic synths, game-changing MIDI controllers and everything in between that has made us a favourite among producers, performers, DJs and bands across the globe. Let's take a look at what we've been up to over the past 30 years.
Going big with Bass
While grunge and hip-hop were taking over airwaves across the globe in the early '90s, electronic dance music was evolving under the surface, getting ready to change the culture of a generation. Beats were getting heavier, bass even bigger and never-before heard sounds were blasting through speakers from festivals to dancefloors.
The timing was just right for us when we introduced Bass Station to the scene in 1993. With legendary synth designer Chris Huggett at the helm, the Bass Station took inspiration from the casing of MM10 and redesigned it. Internally, Bass Station carried the same unique filter and VCA used in the iconic Wasp synthesiser, digitally-controlled oscillators, classic waveforms and real-time MIDI transmission – quite rare feature at the time – to create an instrument with a distinct sound that would become a core part of 'acid' music by the end of the 90s.
As the name suggests, Bass Station was perfect for bass and lead lines and synth effects. The two-octave keyboard gave you great control over your sounds with intuitive controls, and pitch and modulation wheels. Thanks to countless artists using it through effects units to create era-defining music, including Radiohead, Massive Attack and Nine Inch Nails, Bass Station is now considered a classic in the synth world.
Super Synths
Supernova came on to the scene and was one of the first projects Chris Huggett took on after joining us as a full-time member of Team Novation in 1998. The 3U rack-mount, analogue modelling polyphonic synth contained a phenomenal multi-effects processor, providing a richer range of quality effects in its multi-timbral performance modes. Artists including Orbital and Jean Michel Jarre incorporated Supernova in their sound, and it joined the family of classic Novation synths with a high pedigree.
In 1999, Supernova was repackaged into the Nova, a 12-note polyphonic desktop model synthesiser based around the same Supernova synthesiser engine. It contained three independent oscillators and used Analogue Sound Modelling to create its analogue-like sounds. With a variable noise source, a pair of ring modulators for each voice, six multitimbral parts, a vocoder and a mixer section on board, Nova was capable of creating really complex tones. Plenty of effects and a sophisticated arpeggiator with mono, poly and user patterns made Nova a unique instrument in its own right.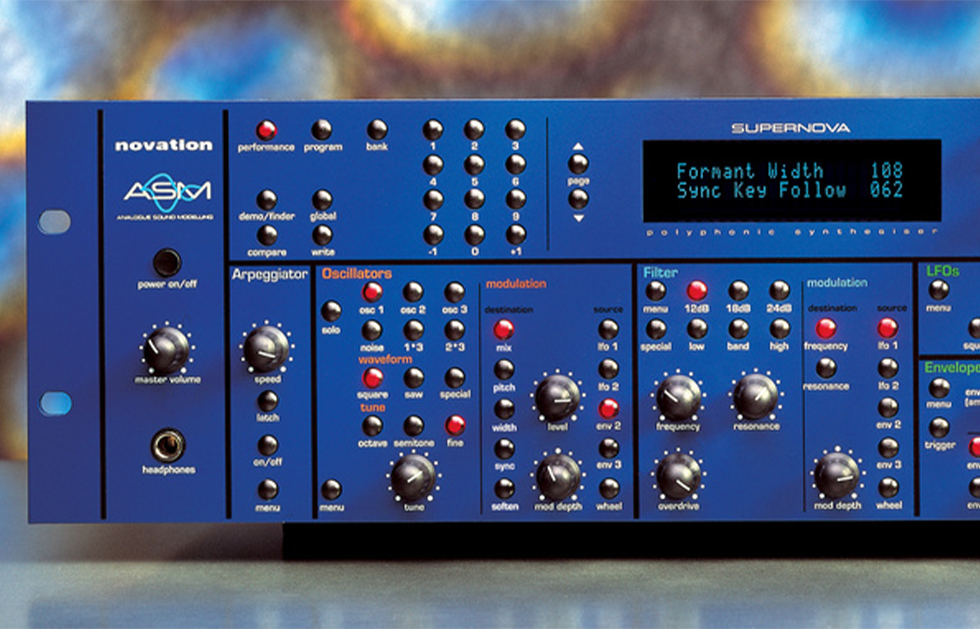 The '90s were heavy with drums, bass and exploration with synth sounds, and we continued to adapt on the Bass Station that we started the decade with. In 1994, the Bass Station Rack continued on with the popularity of its keyboard predecessor but in a new format. With added features, the Bass Station Rack included dual ADSR envelope shapers, 12/24db per octave filter, oscillator sync, and LFO.
From 1995, we took to redefine the drum machine and launched DrumStation. While it included all the sounds of classic Roland drum machines including the TR808 and TR909, DrumStation used Analogue Sound Modelling to produces its sounds, as opposed to samples like rival drum machines at the time.
We took an even bigger step up in 1997 with the Super Bass Station. This further upgraded the original Bass Station by adding an arpeggiator, noise source, ring modulator, additional LFO and extra presets, which expanded the sonic capabilities of the Bass Station, moving it from its 'acid' roots into a wider territory.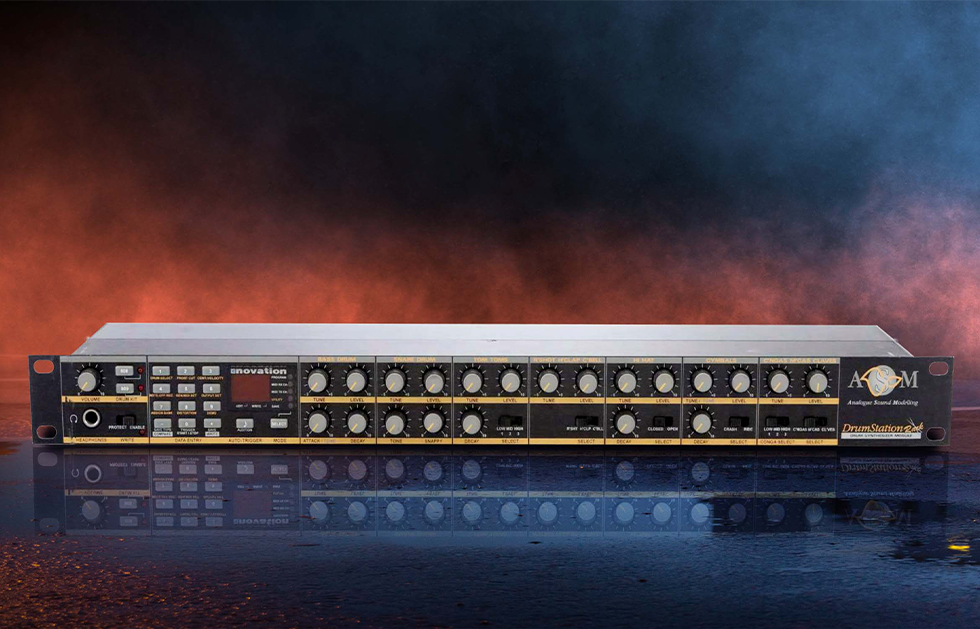 New sounds for the New Millennium
In 2000, we ramped things up even more with Supernova II. Available in two formats, you could create expressive synth performances with an onboard arpeggiator, velocity and aftertouch on the 61-note keyboard version. With the 3U rack-mount format in the Standard 24-voice, Pro 36-voice and Pro X 48-voice models with additional 12 or 24-voice expansion boards you could achieve complex, modern synth sounds, perfect for the new millennium.
In 2001, we released the A-Station, a 1-U rack-mount that based its voice architecture on that of the Supernova with a similar visual appearance to that of the Bass Station. Using Analogue Sound Modelling for its digital oscillators instead of simple DCOs, A-Station added 8-voice polyphony, an arpeggiator, noise and an FM synthesis engine for a tougher sound.
K-Station followed soon after A Station, with a two-octave keyboard, three oscillators, FM synthesis, a noise source, a 12-band vocoder, arpeggiator, dual ADSR envelope shapers and two LFOs, and effects including delay and reverb. With a large LCD display and 25 knobs for real-time control, the K-Station's intuitive design became popular in many universities and academies to teach analogue synthesis.
2006 saw the start of the SL Series of MIDI controllers take the stage. The Remote Zero SL was a unique approach, having no keys but offering a selection of easily assignable knobs, buttons, sliders and trigger pads to be used to control any MIDI-compatible hardware or application. The Remote SL range's intelligent Automapping made it easy to use with applications such as Cubase, Nuendo, Reason, Logic and Live, giving artists the ability to use instruments and adjusts parameters in their DAWs. SL MkII came in 2008 as an update to the Remote Zero SL to include touch-sensitive knobs and sliders and was available in 25-, 49- and 61-key models with note velocity and aftertouch.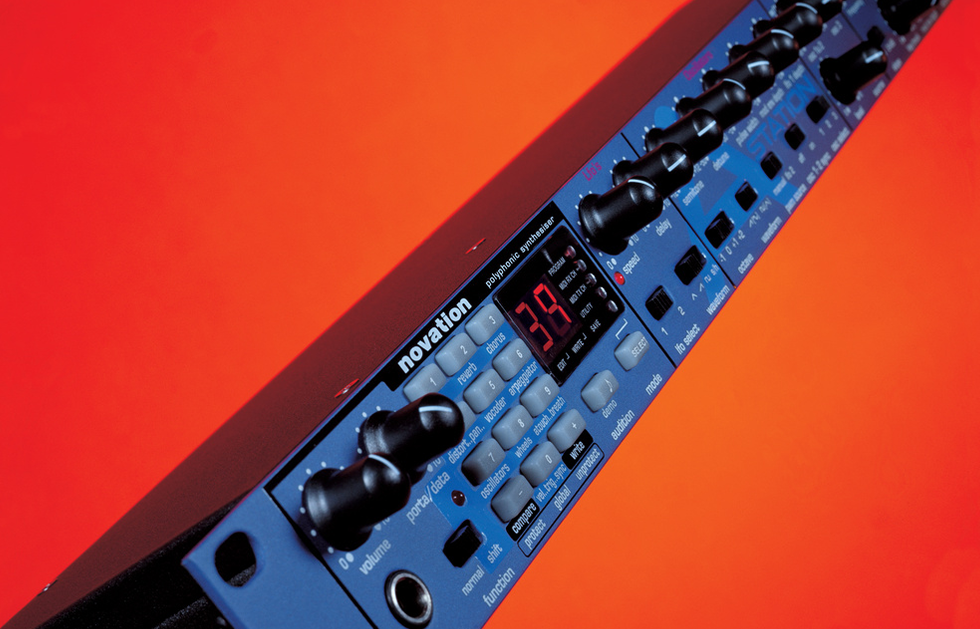 A partnership between Novation and Ableton brought the revolutionary Launchpad to the world in 2009. The 64-button MIDI controller grid with additional control buttons was a sleeper hit from producers to performers, setting things alight for grid-based music production and performance. With Launchpad's screenless workflow, it brought Ableton Live's Session View to the pads and into your hands. The DAW turned into an instrument where you could trigger and play clips with real feel.
It wasn't long before Launchpad was gracing the stages with producers pushing the beat pad to places that we never could have imagined. Most notably, Madeon's 'Pop Culture' video in 2011 turned Launchpad into a viral performance tool, expertly showcasing its musical potential with samples. M4SONIC was the next to greatly impact the Launchpad community in 2012 with a powerful EDM performance. Launchpad Lightshows became a core part of Launchpad culture, and with the introduction of RGB LEDs to the Launchpad MkII and Launchpad Pro in 2015, artists were inspired to launch clips and create memorable visual performances like never before. Launch Control in 2013 and Launch Control XL in 2014 further expanded the range.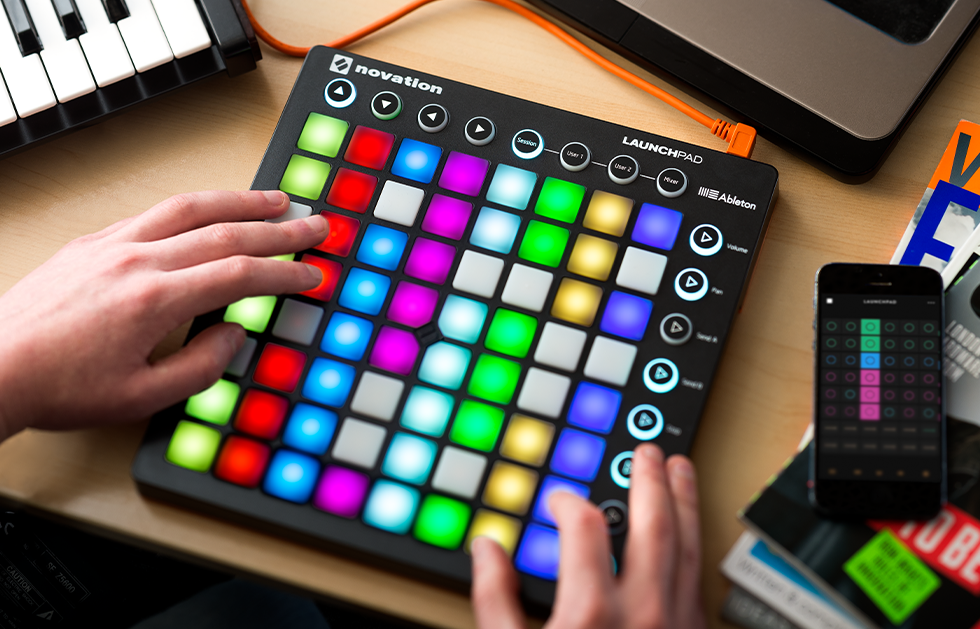 Tens across the board
At the start of the '10s, this decade was shaping up to be another milestone in musical achievement for us. Released in 2010, UltraNova was the fourth member of the Nova family. UltraNova took the Supernova II synth engine as a starting point and packed it with the latest technology. The analogue-modelling synthesizer showcased a powerful effects processor and filters, with wavetable synthesis, a software editor and a touch-sense performance mode. Notable UltraNova users included Arca, Taylor McFerrin and Blue Daisy who created stand out sounds with the synth. In 2012, MiniNova made its debut, as a small but mighty synth based around UltraNova, with an onboard vocoder for a new sonic layer to your music.
The 2010s also saw two new devices taking focus on the DJ scene with Dicer and Twitch. The Dicer MIDI controller with five buttons and three mode select buttons attached to the corners of a turntable or laptop and allowed users to control loops, cues and effects of DJ applications such as Traktor and Serato. 2011's Twitch introduced a totally new way to DJ and perform, using touchstrips as a means of navigating tracks to slice and mix in beats and sets with ease.
In 2013, we made some big moves with both the Launchkey range stepping into the spotlight and a mighty return from a synth classic in the shape of Bass Station II.
The Launchkey range of MIDI keyboard controllers – available in 25, 37, 49, 61, and now 88-note models as of 2022 – brought music production even closer to the artist and kept the focus on playing freely and expressively. With deep integration with Ableton Live and quick DAW controls right at your fingertips, you could trigger clips and launch scenes in Ableton Live with 16 velocity-sensitive multi-colour pads.
The legendary Bass Station saw an upgrade after 20 years with the Bass Station II. Building on the original model and re-worked it for the 21st century, it features a two-octave keyboard and modulation section, powerful arpeggiator, step sequencer, storage for custom sounds and plenty of presets to get your music going. It gives you a rich range of complex sounds thanks to its all-analogue signal path and effects section, three analogue oscillators, a noise generator and two discrete filters – Classic and Acid – to bring back those iconic sounds of the original Bass Station. AFX Station also appeared as a limited-edition model of the Bass Station II made in collaboration with world-renowned Aphex Twin in 2019.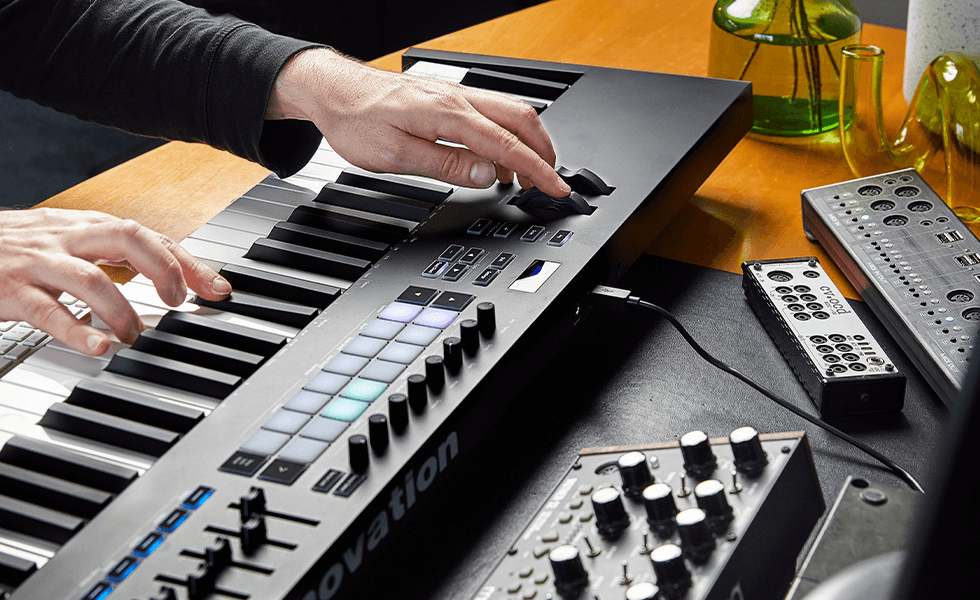 Peak and Summit expanded the esteemed name of Novation synths. In 2017, Peak, an intuitive eight-voice polyphonic synthesizer, brought the best of analogue and digital with Bass Station included in its DNA. With an analogue filter and VCA, digital effects, arpeggiator, lots of modulation and onboard mixer, there's endless variety with what you can make and how you perform with Peak. One key feature of the Peak and Summit synths was the use of a high-powered processor component called a Field Programmable Gate Array (FPGA) which enhanced the range of possibilities for digital oscillators in modern synths. Rather than using traditional DSP chips, an FPGA runs at a higher rate which directly affects the clarity of sound, and as a result gives Peak and Summit a unique and unmatched sonic range.
Two years later in 2019, Summit arrived as our flagship synth and our best to date, containing the legacy of Novation's synths from Bass Station and its predecessors in the WASP and OSCar. Double the power of Peak, Summit came as a two-part 16-voice 61-key polyphonic synth using digital New Oxford Oscillators to provide subtractive, FM and wavetable synthesis, and feed into genuine analogue dual filters, distortion and VCAs.
We got into the groove when Circuit launched in 2015. Much like the Launchpad, the screenless groovebox let you get ideas out quickly and brought you closer to music and work with your synths and drumbeats in a fun way. Circuit combined a four–part drum machine and two polyphonic synth engines with brightly lit pads and controls to make a compact music production powerhouse.
The future is now
As of 2022, we're always upgrading our instruments and devising new ideas to change the way we make music. The latest members of the Novation family came in the shape of Circuit Rhythm and Circuit Tracks, a powerful duo of grooveboxes that follow in the footsteps of its older Circuit sibling but adapting to the needs of modern beatmakers and producers.
Circuit Tracks is the OG Circuit reloaded for the modern producer. With two refined polyphonic digital synth tracks, four drum tracks, creative FX, it's a powerful portable instrument and is comfortable anywhere, whether you're making music in the studio or on the road. Circuit Rhythm is a beatmaker's best friend, allowing you to record samples straight into the hardware so you can chop and change samples with immediacy and built beats on the fly across eight sample tracks and enhance your live sets with performance FX.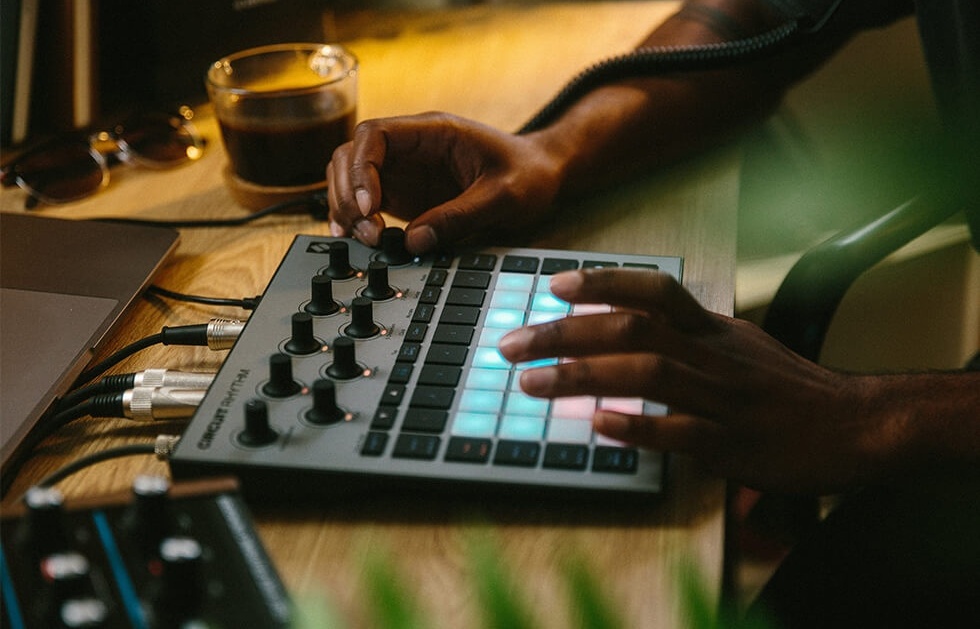 Our instruments are continuing to adapt to the demands of modern music makers with the likes of FLkey launched just this year as the one-stop MIDI controller for producers in FL Studio. Aside from hardware, our software evolves with us, always responding to the requests and desires of the Novation community over the years. The much-loved Circuit groovebox software update gave users the ability to go off-grid with non-quantised recording and microstep editing to for effortless beatmaking, and the inclusion of Custom Modes brought complete customisation of MIDI controllers that changed the way our community makes music, so that we're closer to our songs than ever before.
Since the very beginning, Novation has always been about making the musical world as inclusive as possible and changing the way we make music for the better. From one small idea, we've seen our instruments played in studios and on stages worldwide, by artists across every genre. All of this give us a rich heritage that we couldn't be prouder of. Cheers to thirty years of MIDI, bass and synthesized sounds. Here's to many more with endless music where anything is possible.